The En-Grooving Machine DJB18109
2022-03-25 20:40:55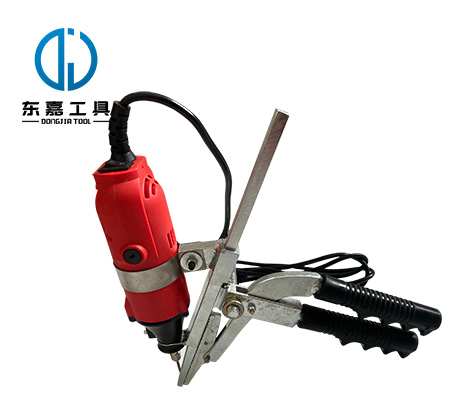 The En-Grooving Machine DJB18109
Application: The en-groove machine is widely used for metal channel letter making, signage making and decoration making industry.

Features
Features:
1.The machine moving through a channel to keep the en-grooving goes accurately.
2.The zigzag clamp will hold the trim cap tightly.
3.The high quality drill is with high hardness.
4.The machine is with thick ABS shell to make sure the safety.
5.The machine with the supporting stand to avoid shifting when it is working.

Other
Instruction:
1.Adjust the drill to make it in accordance with the width of the trim cap.
2.Hold the handles with the left hand, then put the trim cap into the clamp with the right hand.
3.Move the machine from top to bottom to engrave a slight groove on the surface of the trim cap.

Cautions:
1.First check the power cable, clamps and the screws to make sure them ready for work.
2.Turn on the machine and have it kept on no-load running for 1min to ensure the rotating speed stable.
3.Hold the ABS covered motor entirely to move the whole machine. Do not push or pull it.
4.Keep the motor clean both outside and inside. Make sure the air outlet unblocked.
(The metal scraps coming into the air outlet will lead to the damage of the motor.)
5.Check & maintain the motor and the commutator on time. Please polish or change the commutator when there is plenty of scratches.
6.Make sure that there is certain pressure between the electric brush & the commutator. Change the electric brush when it is too short. The motor may get burnt when the electric brush & the commutator are not well connected.
7.Keep the motor in dry places. If it gets wet, you must dry it first and make sure the insulation resistance not less than 7MΩ when tested with a 500V Megger.
8.Make sure the machine & its parts all well kept. Do not scatter the clamp.

NO.5 Shangdu Road,Zhengzhou New District,Zhengzhou,China
Cellphone: 86-177 3717 3296(what'sapp)
Copyright © chinalettertool.com
Tel: 86-371-5556 7559